About Acne/Pimples and  Scar Treatment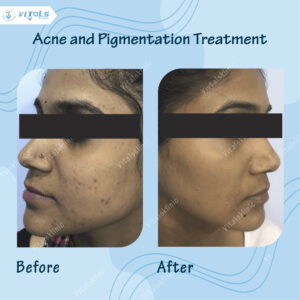 Acne, commonly known as pimple, makes face look ugly and when left untreated for a longer period of time, leaves a scar on the skin, may it be face or chest or back. Though most of us have experienced it, it is always better to get it treated to keep the skin healthy, smooth and good looking.
Causes of Acne/Pimple
Stress
Hormonal imbalance
Weather or Climatic conditions
Hygiene
Usage of unprescribed creams
Treatment Methods for Acne and Its Scars
For Acne or Pimple
Usually, chemical peels are done along with prescribing some medications and creams but it is always tailor-made and not the general solution as every acne case is different. A thorough investigation of skin, medical history, acne severity is done to understand the root cause of the acne before treating or prescribing any sort of medicine or creams.
For Acne Scars
Advanced micro needling-rf is done which reduces the scars. It is always better to get treatment for acne scars at the early stage itself as some scars might become permanent. Dermatosurgery procedures done for acne scars are:
Subcision
Punch excision
Punch flotation
Dermal grafting
Fillers for acne scars
FAQs
Is there a cure for acne or pimples?
Yes, most of the patients that visit our clinic have got rid of acne for good.
Can I go out in the sunlight right after the treatment?
Yes, you can go out in the sunlight but applying sunscreen is a must. (Anyway we apply it at our clinic only)
What is the cost of acne treatment?
It depends upon the treatment type, severity of pimple, type of skin, medical history of acne etc. So it is better to get a consultation from our expert dermatologist.
Can acne scars be completely ironed out?
Yes, if treated at the early stage. Otherwise, it depends on the age of the scars.
How many sessions does it take to see results?
It varies from person to person but usually, results can be seen after the 2nd session for most of our patients.